Landfill
Director, Writer, Producer

Supported by:

CAC, CALQ, FAP & Main Film



In post-production, STR 2023
Dramatic comedy
(17 mins)


LANDFILL follows Alice, a headstrong elder dyke, as she navigates terminal illness and her unique notion of legacy. When an eager filmmaker solicits her for a political documentary about the cause of her illness, Alice's outlook is called into question.

Based on a short story by Anna Leventhal.


Produced by Jess Lee, Jeanne-Marie Poulain, Anaëlle Béglet, Line Sander Egede & Irène Bessone (

Art et Essai

)

Cinematography by Yan Clement. Production Design by Louisa Schabas. Costume Design by Becca Blackwood. Edited by Marie-Pier Dupuis. Sound Design by Marie-Pierre Grenier.

Starring Moe Angelos, Cat Lemieux, Joelle Jeremie, Sarah Levesque, Fariba Bonakdar, Gillian Doria.
2017
Coming of age, comedy
(8 mins)
Awkward and disheartened, 18-year-old Stacey grapples with romantic feelings for her older sister Angela.

Based on the short story "Gravity" by Anna Leventhal.
Produced by Jess Lee, Carol Fernandes & Jonathan Beaulieu-Cyr. Cinematography by Yan Clement. Sound Design by Marie-Pier Grenier.

Starring Hilary King, Maddalena Vallecchi Williams, Chamille Roger-Youngs, Thomas Leblanc.


Golden Boat
Producer

2018
Experimental, magical realism, dystopian fiction
(13 mins)


Inside a derelict warehouse in the middle of a salt pan, people from around the world are waiting to be taken to a mysterious place that promises a better life.




Directed by Kristin Li and Gia Zozula. Produced by Jess Lee. Cinematography by Erin Weisgerber. Production Design by Sunny Doyle.

Starring Susan Glover, Aldeen Tawfeek, Sheena Gaze-Deslandes



Francophoney

Writer, Editor, Producer
Teaser :
Voir ici
Épisode pilote:
Voir ici
Épisode 2: Un réseau de saveurs -
Voir ici
2015
Webseries, comedy
(2 x 13 mins)
With her BFF Jennifer in tow, Alex moves to la Belle Province only to discover that she inherited more than she bargained for.


Directed by Bernadette Houde. Produced and written by Bernadette Houde, Reuben Ward & Jess Lee. Cinematography by Julien Fontaine. Edited by Jess Lee & J Haynes

Starring Lucy Butler, Katherine Cullen, Denise Delorme, Pascal-Angelo Fioramore, Roxanne Arsenault.
Music video
2023
(3:30 mins)

Alone in Madness celebrates intergenerational queer community with a collaboration between Montréal's Lesbians on Ecstasy & next gen Lucy's Delirium, in this playful music video. An ode to Le Cagibi, a longstanding queer cafe, co-op and performance space recently shuttered, Alone in Madness follows a robot getting their nerve up to play an open mic night to a dubious crowd.

Music video for "Alone in Madness
"
by Lesbians on Ecstasy, featuring members of
@lucysdelirium
Writer: Bernadette Houde
Cinematography: Hugo Gendron & Reuben Ward
Costumes: Moohk /Adrienne Pan
Camera Assistant: Louis-Philippe Michaud
Editors: Reuben Ward & Caitlin Gilbert
Starring: Stephen John Quinlan, Lucy's Delirium (Franky, Hanako Brierley & Addiepray), Lezzies on X (Fruity Frankie, Veronique Mystique, Bernie Bankrupt)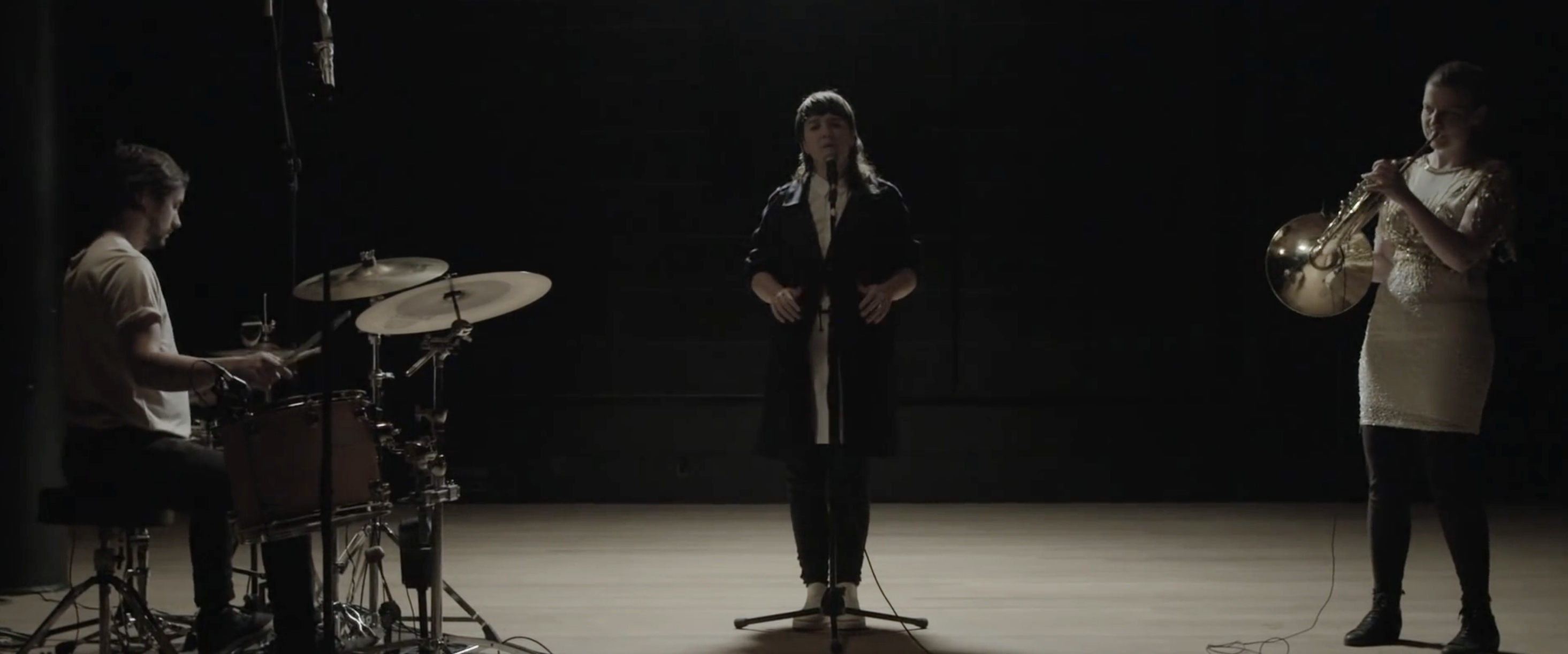 Shields Live at the Phi Centre
Director, Editor
View here
Live music video
2017
(4 mins)
Live music video for "Shields"
by FOXTROTT

Music video
2016
(3 mins)
Music Video for "The Hurtin' One"
by Athena Holmes